January 2017 Real Estate Sales Report
Residential property sales in the region totalled 1,523 in January 2017, a 39.5 per cent decrease from the 2,519 sales recorded in January 2016 and an 11.1per cent decrease compared to December 2016 when 1,714 homes sold. View January, 2017 monthly statistical reports REBGV.
The total number of homes currently listed for sale on the Multiple ListingService® in Metro Vancouver is 7,238, a 9.1 per cent increase compared to January 2016 and a 14.1 per cent increase compared to December 2016.
Generally, analysts say that downward pressure on home prices occurs whenthe ratio dips below the 12 per cent mark for a sustained period,while homeprices often experience upward pressure when it surpasses 20 per cent overseveral months.
Sales of detached properties in January 2017 reached 444, a decrease of 57.6 per cent from the 1,047 detached sales recorded in January 2016.
Sales of apartment properties reached 825 in January 2017, a decrease of 24.7 per cent compared to the 1,096 sales in January 2016.The benchmark price ofan apartment property is $512,300.
Attached property sales in January 2017 totalled 254, a decrease of 32.4 percent compared to the 376 sales in January 2016.
East Vancouver Housing Market
The sales to listing ratio for East Vancouver reversed from the strong Seller Market to a balanced market for detached homes in July 2017, due to weaker demand for detached homes in the second half of 2016. Similarly, in the second half of 2016, townhouses' strong Buyer Market weakened and in January 2017, it entered into a balanced market. Condo demand in East Vancouver also weakened and the sales to active ratio is expected to become balanced by end March, 2017.
Click here to view the latest Stats Centre Report for Vancouver East.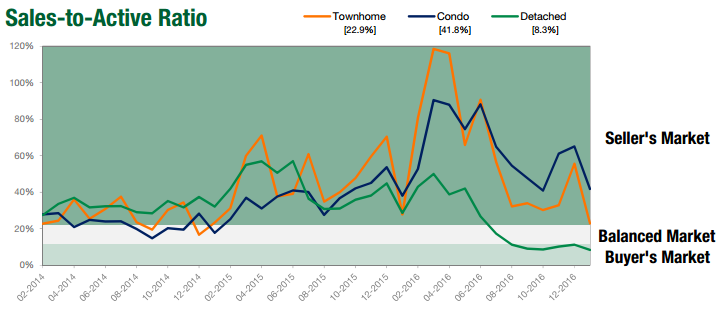 HPI Prices For Detached Homes Declining
The year over year HPI price for East Vancouver is 16.7% higher, but compared to it's peak during $1,537,300 in September 2016, the January HPI price for East Vancovuer at $1,440,500 was 6% lower. The trend for lower home prices is expected to continue to decline in 2017.


The HPI price for detached home at $1.0 million is still a very lofty price tag for a single family home in East Vancouver. From current price level at over $1.4 million, wishing that East Vancouver detached home prices to reach $1.0 million, there is a price gap that requires a 30% decline from current price level.
We will report back from time to time, what the East Vancouvert housing market situation for 2017.