Richmond Real Estate And Housing Sales Report - April, 2016
Richmond active listings continued to lack behind in supply especially townhouses. The days on market for Townhouses, single family detached homes and condos were reported to be 10, 18 and 38 days respectively.

All the three housing types are in Seller's Market, especially for for townhouses and single family homes in Richmond.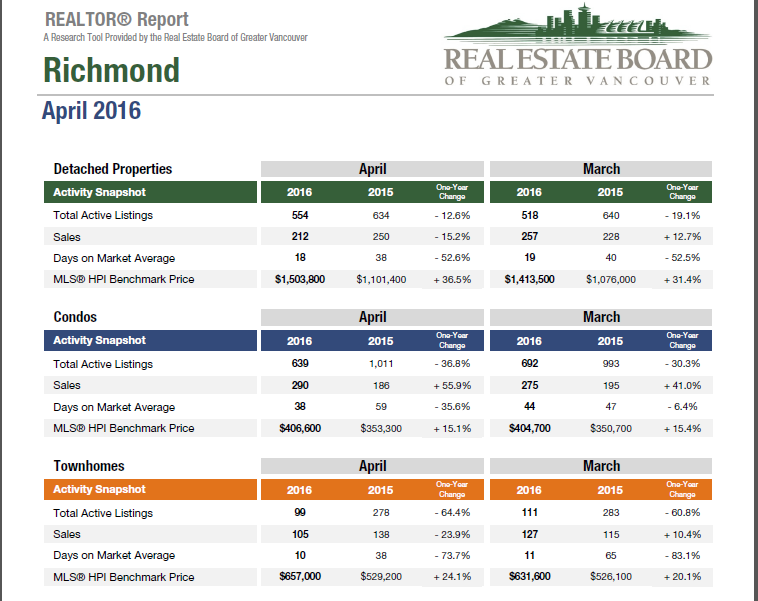 Sales-to-Active Ratio
Both townhouses and single family detached homes in Richmond had been in Seller Markets since early 2015. Buyer interest for these two groups of homes picked up strength in October 2015 and home sellers were getting multiple offers for their homes within days of their homes being listed for sale.
Home prices for townhouses and detached homes in Richmond jumped significantly as a result of strong buying interest from home buyers.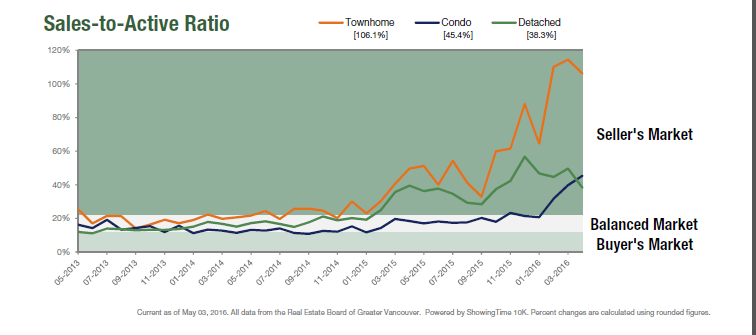 Richmond Benchmark Price
The price lines for detached homes in Richmond had deviated far above the trend line by 50%. There is a high likelihood of substantial price adjustment to the trend line level. For home sellers, selling now appear to be a prudent decision to capitalize on the great price they can get in today's market.
The townhouse situation is less critical as the price above the trend line appeared to be just around 10%. The strong buying interest for detached homes and townhouses and low supply of inventory may not continue un-interrupted. A sudden pullback in buyer interest if compounded by a reversal in the supply of homes would ease demand.
The condo market is relatively stable. Price gain in the condo market was noticeable for presale condos and recently completed new condos. Condos under 5 years were found to be the most sought after segment of the condo market.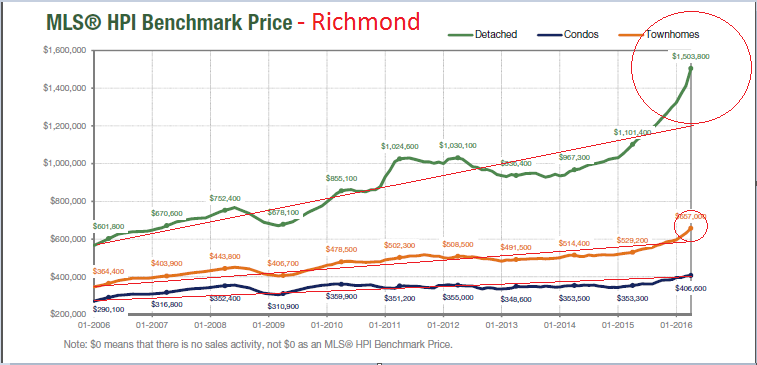 Keeping Track Of The Market
We will report back on the market situation for Richmond real estate. We hope you will find the info posted here useful and beneficial. If you have any questions, kindly contact James Wong at 604-721-4817.
DISCLAIMER: The owner of this website assumes no liability whatsoever, for errors and/or omissions and any consequences arising either directly or indirectly from the use of information provided by this website. Any data provided are strictly for guidance and planning purposes only and may not be applicable due to ever changing market dynamics.