Richmond HPI Price In Decline
Detached home prices in Richmond suffered a dip towards the second half of 2016 and recovered to plateau out from mid 2017 to early 2018. Slower sales in 2016, 2017 eventually gave way to a price decline in early 2018. The pace of price decline accelerated and over the past 9 months, Richmond detached homes had declined 10% from $1.75M to $1.59M.
Using the price trend/band as shown on the chart below, there is a possibility for the price to decline another 15% to touch the lower green price band. Similarly, both townhouses and condos in Richmond may correct and fall lower to touch their respective price bands.
Falling home sales is a precursor to falling home prices. The severity of the sales drops for the 3 housing types in recent months, compared to the 10-year average sales is pointing to a more challenging situation where significant price declines could happen.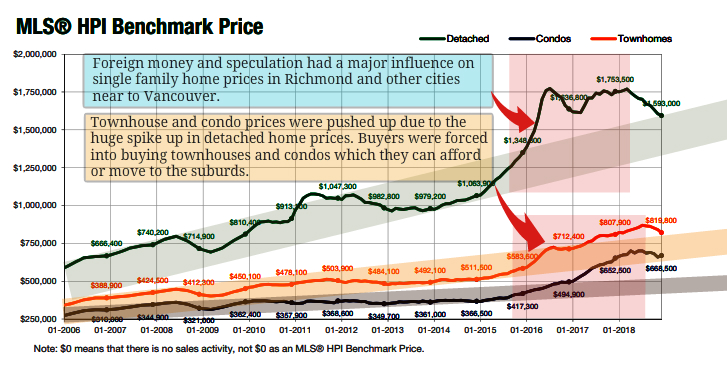 Average Price Per Square Foot
The average price per square foot decline for Richmond detached homes was more significant compared to those for townhouses and condos. The figures are affected by the proportions of new compared to resale homes. The figures being derived from MLS sales which are mostly resale units, the distortion in the figure is more for condos. It is generally known that new presale condos in Richmond are now posting at prices around $1,000 per sq ft or higher.