Richmond Housing Report For September, 2016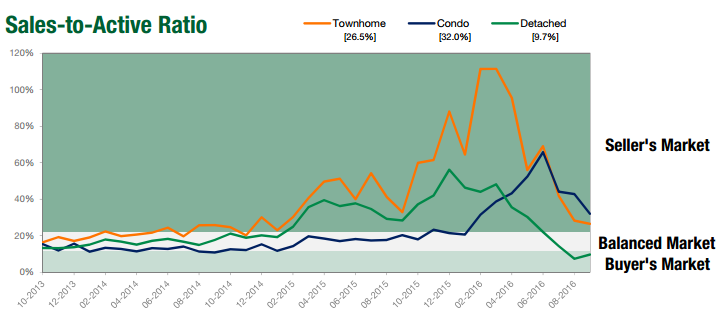 Richmond's real estate market reached peak prices and experienced frenzied buying fever from early March to late June of this year. The supply and demand for detached homes and townhouses slowed down gradually from late April and single family homes were experiencing exhausion of buyers willing to pay the high prices for detached homes coming onto the market. Since June of this year, single damily homes tipped over from a balanced market to a Buyer Market the past 2 months.
Richmond townhouses followed the trend for single family detached homes to rapidly decent from extreme shortage of townhomes in March to 23% sales-to-active ratio - just above the top end of a balanced market for townhomes. The market for townhouses in Richmond is expected to be in balanced market by late October, and may cross over to a Buyer market by the end of the year.
Likewise, Richmond condos followed a decline in the sales-to-active ratio from the peark in June at 70% to just over 30% in September, 2016. The ratio is projected to reach a balanced market between 14% to 20% the next 3 months.
Home Price Projection
New policy measures by the BC Government, the imposition of 15% non-resident property transfer tax and tightening of lending rules by Canadian Banks will dampen the demand for homes. A change in market sentiment will have a significant effect on home prices when buyers are not rush into making hasty offers, or compete with other buyers.
Without any major external influence like a financial collapse in the world economy, the extend of the correction in home prices in Richmond may be limited to a more normal decline of 15% to 20% from their peak prices around June and July of this year.
We will update the market situation in the coming months.
DISCLAIMER: The owner of this website assumes no liability whatsoever, for errors and/or omissions and any consequences arising either directly or indirectly from the use of information provided by this website. Any data provided are strictly for guidance and planning purposes only and may not be applicable due to ever changing market dynamics.