Richmond January Housing Report
The housing market activities in Richmond slowed considerably since late September, 2016 and the sale pace for single family detached homes showed a significant drop in buying activities. However, detached home prices didn't show much downward price decline although the sales to active ratio remained in Buyer's Market for 6 months.
>> You can find Richmond detached homes for sale using this link.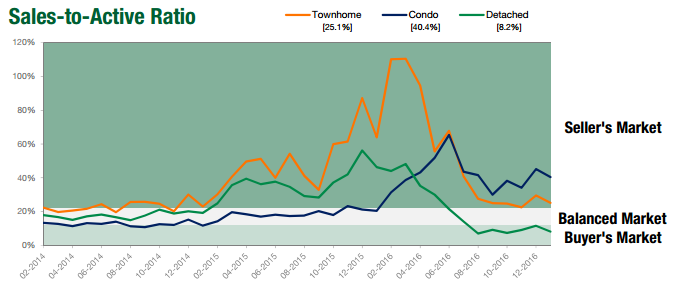 Both townhouses and condos enjoyed elevated prices which showed a significant jump in their average selling prices since early 2016. Most 3-bedroom townhomes within the 3 to 15 years age range are selling from $650,000 to $800,000 range for the larger units with over 1,400 sq ft living areas.
Richmond condos continued to receive a lot of buying interest and resale 2-bedroom condos between 3 to 10 years are now selling from $450,000 to $800,000 for the newer concrete condos around the City Center of Richmond.
If you like to have more info on any of the homes for sale, or like to have a discussion on your real estate needs, you are welcome to contact me (James) at 604-721-4817.